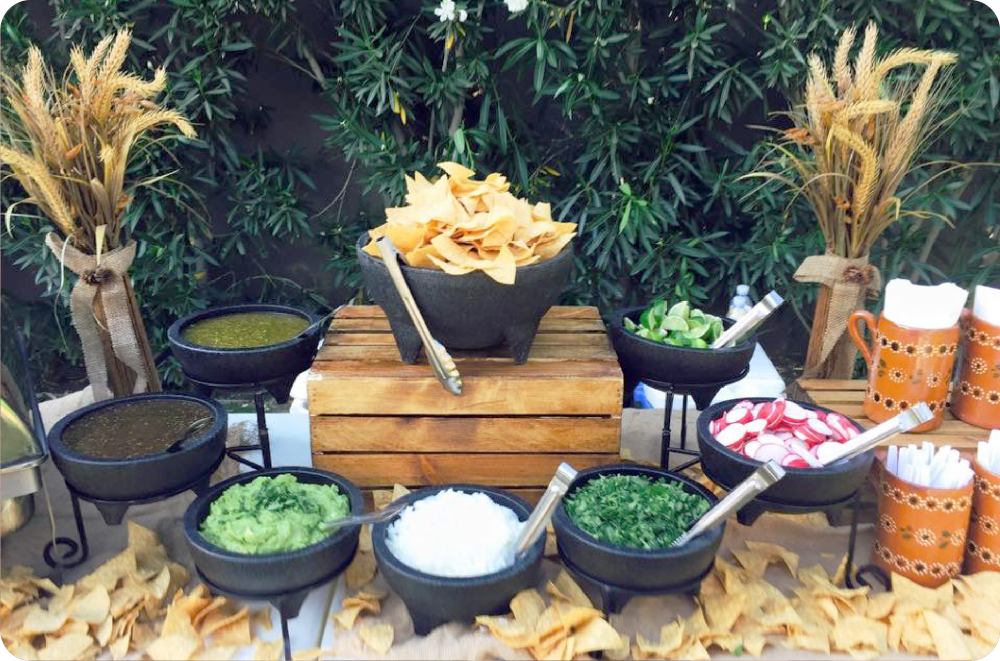 If you're looking for traditional Mexican Cuisine with a diverse mix of bright and bold flavors, Tacos & Beer Catering is the one to cater your event. Tacos & Beer keeps it simple—our authentic recipes are perfect when you're in the mood for Mexican cooking. Mouthwatering tacos with Carne Asada, Grilled Chicken Breast, BBQ Lamb and house-made salsas are some of the options your guests will enjoy. Why not try our Fresh Agua Frescas like Horchata, Strawberry Lemonade and Pineapple with Coconut, to name a few. The buffet table is decorated with vibrant colors and chips for the guests to enjoy while waiting in line. Tacos & Beer is a restaurant that also provides full off-site catering services, so let us cater your event at a great price!
• 2 rectangular tables are provided for the buffet setup (Based on if additional items are ordered).
• Setup time will be 1 hour before serving time.
• Easy access and outdoor open space is required for the griddle. 10 x 10 space is needed for buffet setup.
• Plastic cutlery, paper napkins and plastic plates will be provided.
• Table linens are provided for buffet table. (Specific colors may be requested).
• Tacos will be cooked on-site with a griddle using propane. The remaining items (rice, beans, salsa etc.) is maintained hot or cold and is prepared and at restaurant "Tacos & Beer".
• If beverages are added to the order, cups will be provided.
• Food will be served for 90 minutes. Additional hours can be added for $49 per hour.
• There will be a service charge (based how much on number of guests, staff, distance and equipment needed).
• We do require lighting for food during outdoor evening events. We do not provide light or extension cords.
• "Tacos & Beer" will not be held responsible for bad weather such as: rain, wind, snow, and or other acts of "Mother Nature". The host is responsible for providing cover for food and staff.
• Additional food or number of guests may not be lowered but may be added up to 72 hours prior to the catering event.
• Cancellations must be made at least 3 business days prior to the event. Cancellations made less than 3 days prior to the event are subject to a 20% cancellation fee.
• All catering require 50% deposit of total amount to reserve and hold the date.
• Balance must be paid the day of the catering; no exceptions.
• Please make all checks payable to: "Tacos & Beer".
• We accept; Cash Visa, MasterCard, American Express & Checks..